Stress Management
Useful Books

For Parents:
Stress Free Kids: A Parent's Guide to Helping Build Self-Esteem, Manage Stress, and Reduce Anxiety in Children
By: Lori Lite
ISBN-10: 1440567514
Kids today are more stressed, overwhelmed, and struggling with anxiety than ever before. Children are not born with the coping strategies needed to navigate today's increasing demands of technology, bullying, academics, and family dynamics. You yourself might wonder how your own stressed-out lifestyle is affecting your children. Based on Lori Lite's award-winning series, Stress Free Kids provides relaxation techniques you can use to free your child from stress.

The Mindful Child: How to Help Your Kid Manage Stress and Become Happier, Kinder, and More Compassionate
By:Susan Kaiser Greenland
ISBN-10: 1416583009
The techniques of mindful awareness have helped millions of adults reduce stress in their lives. Now, children—who are under more pressure than ever before—can learn to protect themselves with these well-established methods adapted for their ages. Based on a program affiliated with UCLA, The Mindful Child is a groundbreaking book, the first to show parents how to teach these transformative practices to their children.

Mindful awareness works by enabling you to pay closer attention to what is happening within you—your thoughts, feelings, and emotions—so you can better understand what is happening to you. The Mindful Child extends the vast benefits of mindfulness training to children from four to eighteen years old with age-appropriate exercises, songs, games, and fables that Susan Kaiser Greenland has developed over more than a decade of teaching mindful awareness to kids. These fun and friendly techniques build kids' inner and outer awareness and attention, which positively affects their academic performance as well as their social and emotional skills, such as making friends, being compassionate and kind to others, and playing sports, while also providing tools to manage stress and to overcome specific challenges like insomnia, overeating, ADHD, hyper-perfectionism, anxiety, and chronic pain. When children take a few moments before responding to stressful situations, they allow their own healthy inner compasses to click in and guide them to become more thoughtful, resilient, and empathetic. The step-by-step process of mental training presented in The Mindful Child provides tools from which all children—and all families—will benefit.

Raising Stress-Proof Kids: Parenting Today's Children for Tomorrow's World
By: Shelley Davidow
ISBN-10: 1939629640
Drawing on cutting edge research from the Institute of HeartMath, California, as well as Shelley Davidow's extensive experience in working with children and teens, Raising Stress-Proof Kids explores the powerful and potentially long-term effects of stress on our children. Most importantly, it offers simple but effective steps that parents can take to minimize the impact of stress at home and at school. These include tools from the author's "Restorative Parenting Toolbox," empowering parents with the necessary skills to:
• resolve behavior issues
• deal with temper tantrums
• resolve sibling rivalries
• handle bullying
• cope with teenagers testing their independence
• navigate the challenges posed by the virtual world, and
• provide firm, effective guidance when problems arise.
For Kids:


Wilma Jean worries about everything. She worries about missing the bus, doing a math problem wrong, having friends to play with, and getting carrots in her school lunch. Wilma Jean's teacher helps her figure out what worries she can control and those that she can't and what to do about both types of worries.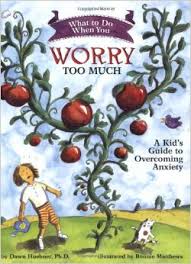 Teaches school-age children cognitive-behavioral techniques to reduce and overcome anxiety, fears, and worry, through writing and drawing activities and self-help exercises and strategies. Includes introduction for parents"--Provided by publisher